Based in Poole and working with customers throughout the area...
Here at Perfect Alloys, we have been in the industry for a number of years, perfecting our trade to provide you with a service that is to the highest level of craftsmanship. Our team of professionals are incredibly talented at what they do, always paying close attention to every project they undertake and ensuring that you are always getting what you paid for! For an alloy refurbishment in Poole or Bournemouth, be sure to make Perfect Alloys your first stop!
Take a look through and learn a little bit more about the alloy services that we can supply you and see how we can help!
Get in touch with our team of experts to find out a little bit more on 01202 677 181!
One of the best ways to completely change the look of your car is by powder coating your alloy wheels.
Here at Perfect Alloys, we have the facilities and know-how to expertly prepare all alloy wheels and get them ready for coating. We do this by gently blasting the alloy, clearing off any dirt and imperfections. If our professionals find that the alloy is in such a bad condition, we will be able to chemically clean them, dipping them into a vat.
Once they have been expertly cleaned, our team will set about repairing any damage to the edge of the rims. By doing this we can ensure that the finish will be spotless and smooth. Our team will then heat the alloy to the correct temperature and apply the powder coating, leaving it time to set and cure.
This will give your alloy wheels a coating which is incredibly durable & hard-wearing and also benefiting from an improved modern look.
An incredible way to make your alloys unique!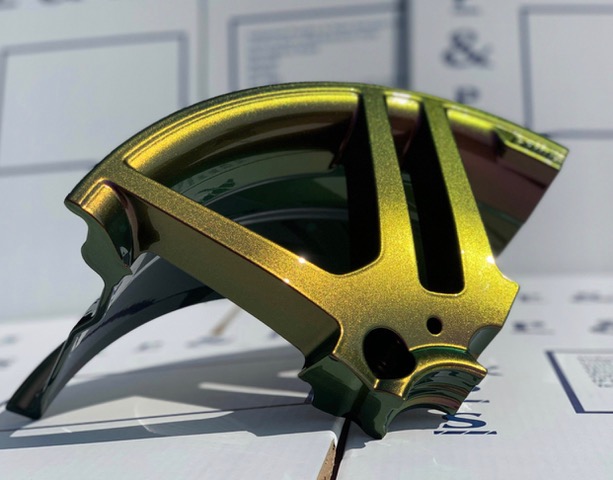 We clean all alloys through either blasting it or dip it in a vat of chemicals, eroding away any dirt.
Our team will repair any imperfections on the wheel, repairing any damage and ensuring a smooth finish.
Once you alloy is ready we will apply the specialist powder coating using just the right amount of heat.
Based in Poole, we offer a range of alloy wheel repairs, refurbishment and customization service. Our team of professionals are dedicated to providing the best service to our customers.